RTI PIKO 55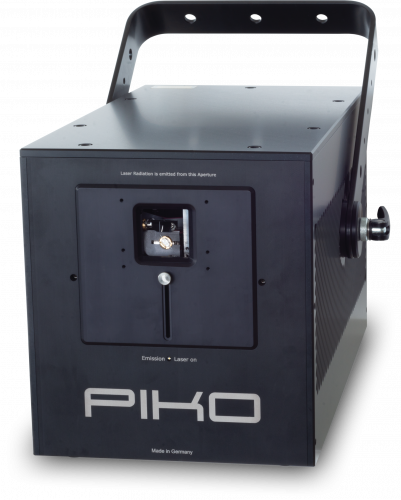 The powerful but compact RTI PIKO 55 is suitable for outdoor laser show applications at concerts, festivals, and other huge events with easy operation due to the built-in software and DMX control. The PIKO is equipped with the latest RSL Semiconductor modules (RSL) making it an amazing laser for beam shows and demanding graphic projections such as laser mapping or projections over long distances. The high-end performance is part of the PIKO's DNA and makes this possible due to the great performance combination of the semiconductor RSL & top scanners
Incl. waterproof flightcase
55 W guaranteed power
Advanced RTI Semiconductor laser modules (RSL) produce a perfect shaped beam profile for red & blue and green.
Maintenance free laser system
RSL modules with no color misalignment
New advanced sealed optical section with no color misalignment
Graphics capable - 38 kpps@8° ILDA scanners
Full-color mixing
Extremely sharp intense beams - low divergence
Multi-control mainboard for DMX, ArtNET, LAN, ILDA, ILDA streaming and stand-alone operation
Integrated Touch-Display for adjustment of basic functions
Integrated network switch for linking the control signal
FB4-QS MAX optional integration
Rugged tour-grade compact housing
360° Bracket with quick-lock system
Laser Artists' choice
Lighting Designers' choice
Incl. waterproof flightcase
Carte mère ShowNET <
par défaut :
Diverses options de contrôle : ILDA, DMX et ArtNET professionnel (deux modes), LAN (contrôle par ordinateur, DAC intégré), Fonctionnement autonome, Récepteur de flux ILDA, Maître-Esclave
Créer du contenu personnalisé, le stocker à l'intérieur du laser et l'afficher dans différents modes
Logiciel de contrôle Show Laser gratuit inclus
MODE AUTONOME:
Le laser fonctionne de manière autonome et n'a pas besoin d'être contrôlé séparément. Il lit le contenu stocké sur la carte mère du laser.
MODE DMX:
Le laser peut être contrôlé avec un contrôleur DMX standard ou un logiciel DMX.
Mode de contrôle ArtNET
Mode maître-esclave:<
Un laser envoie des commandes de contrôle, l'autre laser les exécute. Fonctionne avec les modes autonome et musical.
MODE LAN:
Le laser peut être contrôlé via réseau / LAN - il peut s'agir soit d'un contrôle logiciel direct, soit d'ArtNET ou d'un système similaire (selon la carte mère)
MODE ILDA:
Le laser peut être contrôlé par un signal ILDA standard (le signal de contrôle analogique pour le contrôle du laser). Des convertisseurs analogique-numérique externes (DAC) peuvent être utilisés.
Streaming ILDA
SHOWNET INSIDE:<
Le laser est équipé de la carte mère laser avancée ShowNET qui apporte une multitude de fonctionnalités au laser et en fait un dispositif d'éclairage intelligent.
SHOWEDITOR INCLUS:<
La version complète du logiciel de contrôle laser Showeditor est incluse avec la carte mère ShowNET.
EN SAVOIR PLUS SUR LE PRODUIT

Built with the latest RTI Semiconductor Laser Module technology!

The RTI PIKO 55 is made in Germany and is a compact show laser system in a rugged, dust-proof housing that is ideally suited for top professional laser show applications of any kind. It is built with the latest RTI semiconductor laser modules that are specially designed in a way to keep spot size as well as divergence equal on both x- and y-axis. This is significantly advantageous over solutions with a very good divergence on one axis, but a bad divergence on the other. The laser modules inside the RTI PIKO 55 are different - the spot size and shape is equal for all colors and on both axis!

The beam specifications of the new RTI PIKO 55 are given with only ca. 7.5 mm diameter and 0.7 mrad divergence - which applies to both axis, so it's an actual value not an average and provides higher quality results than specifications with mixed calculations. The extremely small beam diameter allows for the use of very small mirrors, which results in reduced inertia and thus very good scanning performance.

KEY FEATURES

55 W total RGB power in a small housing of only 271 x 491 x 296 mm
super small spot of ca. 7.5 mm for reduced inertia and thus fast scanning
extremely low divergence of less than 0.7 mrad - on both axis!
Integrated network switch for linking the control signal
Maintenance free, no misalignment: new generation of laser color combination

Compact form factor, module size equal to the Coherent OPSL modules
extremely lightweight unit with only 27 kg
Different, brighter wavelengths for increased visibility
brilliant colors and great color fading
Laser modules do not come out of internal alignment
Maintenance free laser modules
Interlock / e-stop signal can be daisy-chained
High quality product, made in Germany
Great scanning performance suitable for projections as well as for beams

The RTI PIKO 55 impresses with a guaranteed RGB output power of 55'000 mW. Great visibility is achieved with the new RTI Semiconductor Laser Modules (RSL) with special wavelengths for increased visibility: 15'000 mW / 637 nm for a very bright red combined with a strong blue laser module with 30'000 mW / 455 nm. The 16'000 mW / 525 nm 525 nm modules have increased visibility compared to normal diode modules.
These new RSL modules with their extremely low divergence and homogenous beam shape make the RTI PIKO 55 a top professional laser system. The extremely small beam diameter of only ca. 7.5 mm allows for the use of small scanner mirrors which leads to reduced inertia and higher scan speeds. This is especially important, as the RTI PIKO 55 can be used for any kind of laser show application: Super sharp beams and vivid colors for large scale concerts and festivals but also a perfectly matched beam for crisp graphics.



The RTI Semiconductor Laser Modules are maintenance free and do not come out of internal alignment.
The standard scanners can be run at a maximum of 38 kpps@8° ILDA and a maximum scan angle of 48°..

The housing is built very durable and ideal for use on the road. It has an interlock / e-stop through port, which allows for daisy-chaining the interlock signal, which means that only one e-stop is required for several laser systems. Due to the dustproof housing, the maintenance effort is very low and the device is also suitable for tough touring applications.

The new 360° brackets can be safely fixed in the needed position in just a few moments thanks to the quick-lock system.Demanding graphics projections or projections over long distances are possible without any problems, due to the extremely good divergence.

INCLUDING SHOWNET LASER MAINBOARD

The RTI PIKO 55 is delivered with a ShowNET laser mainboard as standard. This means it has a multitude of control features already built-in: Control via DMX or ArtNET, just like a normal lighting fixture, are possible as well as computer control via ILDA or LAN. Of course the laser can be run in stand alone operation, too. The contents for playback (for DMX, ArtNet, Stand-Alone, etc.) can be fully customized. As the ShowNET laser mainboard comes with a full license of the Showeditor software, it is easy to create custom content for the built-in memory or even directly control the laser with a computer - either live or for creation an playback of complete laser shows.

If ILDA shall be used as control option, like from an external Lasergraph DSP, the internal ShowNET mainboard can also be used as receiver for an ILDA streaming signal - so the externbal ILDA signal can be feeded to an external ShowNET device and this sends the direct control to the RTI PIKO 55 via ILDA Streaming - so no long ILDA cables are required any more, even with ILDA based control systems.

If the laser is operated in hot temperatures (above 35°C), please contact your key account for the required accessories.
VOIR LES PHOTOS DE DÉTAIL
DÉTAILS TECHNIQUES

Puissance garantie en sortie

55'000 mW

Puissance rouge

15'000 mW / 637 nm

Puissance vert

16'000 mW / 525 nm

Puissance bleu

30'000 mW / 455 nm

Caractéristiques de faisceaux (full angle)

ca. 7.5 mm / 0.7 mrad

Angle de balayage max.

48°

Sources laser

modules RTI RSL

Modes de fonctionnement

ILDA, DMX, LAN, ArtNet, streaming ILDA, carte SD intégrée, mode autonome

Motifs de base

env. 120 effets (tunnel, vague, dents de scie, etc.)

Accessoires

connecteur interlock, clé, câble d'alimentation, mode d'emploi, licence logiciel Showeditor

Alimentation

85-250 V AC 50/60 Hz

Consommation électrique

2500 W

Dimensions

271 x 491 x 296 mm

Télécharger la fiche technique

*En raison de différentes technologies avancées de correction d'optiques utilisées dans nos systèmes, les puissances en sortie des modules peuvent légèrement différer des puissances annoncées pour le module correspondant.